IDISEC:Rf (Radio Frequency) Anti-Shoplifting Systems
DISCOVER THE RADIO FREQUENCY SHOPLIFTING SYSTEMS OFFERED BY IDISEC
Rf (Radio Frequency) Anti-Shoplifting Systems
The Radio Frequency (RF) technology used in anti-shoplifting systems is based on a very thin, spiral-shaped LC oscillating circuit, which is used to radiate into space the high-frequency electromagnetic waves needed to operate the system. Different radio frequencies can be configured, but the one that is typically and most widely used is 8.2 MHz. The circuit, which acts as both transmitter and receiver of the waves, is very simple and at the same time inexpensive. The systems placed near the shop openings (antennas or anti-shoplifting barriers) work in pairs, both as source and destination of the signal, so the process is as follows:
TRANSMITTING ANTENNA emits a constant radio signal in the immediate vicinity
The signal is intercepted by a LABEL or by a  TAG  that is sufficiently close
If the label or tag has not been properly disconnected using the appropriate equipment in the checkout counters (a DEACTIVATOR or a DETACHER respectively), it will emit an additional signal
The signal is picked up by the RECEIVER ANTENNA: when it happens, the alarm is triggered.
IDISEC's anti-shoplifting systems with acousto-magnetic (AM) technology are very effective because the receiver is able to analyse the incoming signal and assess whether it actually comes from a compatible anti-shoplifting tag or plate in the shop or whether it is a false alarm.
The anti-shoplifting system with Radio Frequency (RF) technology offered by IDISEC is therefore a very useful solution for protecting the goods on display from potential theft and is the ideal choice for a wide range of businesses.
Radio frequency anti-shoplifting systems: prices
According the type of business, there are different anti-shoplifting systems with RF technology that can provide specific protection for the goods on display for sale. To neutralise the radio frequency circuit, depending on the choice of the most suitable accessories to be used to safeguard the articles in the shop, special tools that can overload the circuit and disable it permanently are available.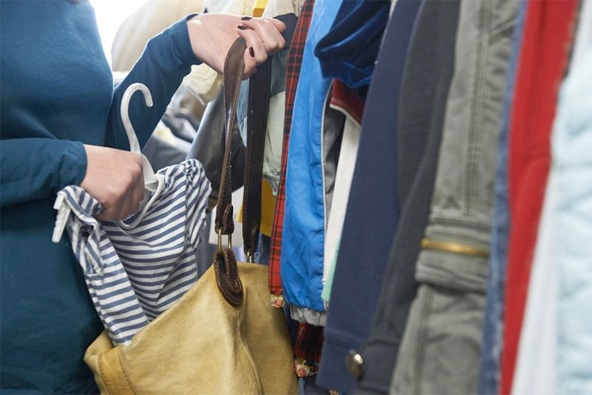 Radio frequency technology is one of the alternatives offered by IDISEC for its anti-shoplifting systems, as it works with both adhesive anti-shoplifting labels and rigid tags (anti-shoplifting plates), which are suitable for protecting a wide range of product categories ACOUSTO-MAGNETIC ANTI-SHOPLIFTING SYSTEMS). For these Anti-shoplifting systems, prices vary depending on what you choose to buy and the quantity:
For Anti-shoplifting barriers, the prices of Radio Frequency alternatives available from IDISEC vary depending on the model chosen: – The EPSILON radio frequency system is the standard type, made of aluminium and plexiglass; – The QUASAR radio frequency system is more complex: made of steel and plexiglass, it is also equipped with elegant LED lighting.
With regard to the range of Radio Frequency System ACCESSORIES, whether tags or anti-shoplifting labels, prices may vary depending on the total ordered quantity .
For more information on our Anti-shoplifting products and prices of individual units, please do not hesitate to contact us, also by filling in the form below.
Epsilon
Single or dual antenna RF 8.2MHz Anti-shoplifting system Epsilon is the most economical anti-shoplifting system with Radio Frequency (RF) technology, equipped with digital signal control: the ideal solution for any environment, whether small or large, when the furniture style of the environment does not impose any specific requirement (in the latter case, IDISEC offers the Quasar model, an anti-shoplifting system with a slightly higher price in relation to its performance). Designed to suit a variety of environments, this model of anti-shoplifting barrier is a discreet and functional anti-shoplifting system at an affordable price.
The simple, linear and essential design of the Epsilon anti-shoplifting barriers incorporates a digitally controlled signal that triggers an audible alarm in the event of a fault. Available in single and double antenna versions. ● Detection: up to 110cm per side (mono antenna) ● Detection: over 180cm (double antenna) ● Dimensions: 164-44-4cm (H-L-P) ● Weight: 11Kg ● Power supply: 220-240VAC ● Materials: aluminium
Quasar
Quasar
With its elegant LED lighting, Quasar is the ideal solution offered by IDISEC for Anti-shoplifting barriers to be installed in modern and refined environments, retail spaces with a contemporary and essential style, without sacrificing quality in terms of performance (alternatively, our Epsilon model).
The main feature of this anti-shoplifting system is that it combines the visual lightness of transparent Plexiglas with sophisticated LED lighting, which means that Quasar shoplifting barriers do not obstruct the view or even take away light, even in small rooms. Digital signal control ensures optimal operation in every situation.
Available in single and double antenna versions, to better suit the needs of our customers and the typical conditions of large stores.
Detection: up to 110cm per side (mono antenna)

Detection: over 170cm (double antenna)

Dimensions: 165-34-12cm (H-L-P)

Weight: 25Kg

Power supply: 220-240VAC

Materials: plexiglass and steel

Colours: white, green, blue, red on alarm
Accessories for RF (radio frequency) systems
Anti-shoplifting accessories for 8.2 MHz RF systems
At IDISEC you will be able to purchase a wide range of Anti-shoplifting accessories with Radio Frequency (RF) technology. They are the best solution for protecting the goods on display at the point of sale of a business.
Each accessory can be used in conjunction with a key device: RF Anti-shoplifting barriers (for which there are two models to choose from: Epsilon and Quasar).
These, mono or dual antenna, form the active part of the system.
The rated maximum distances are based on the use of the Quasar dual antenna system.
For Radio Frequency Anti-shoplifting systems, it is possible to purchase various types of Anti-shoplifting labels and plates (or tags) in different shapes and sizes.
Finally, if the alarm system needs to be disabled, we can offer the appropriate means (to be placed at the checkout and used at the time of purchase): detacher (for anti-shoplifting plate) and deactivator (for anti-shoplifting label).