AM ANTI-THEFT SYSTEMS
The acousto-magnetic (AM) technology applied to anti-theft systems for retail shops is recent and innovative. This technology is based on a physical phenomenon known as magnetostriction that is applied to the anti-theft accessories used to protect the merchandise.
Anti-theft systems based on the AM technology work at a frequency of 58KHz. Accessories such as anti-theft labels and anti-theft plates (also known as tags), contain two thin metallic strips.
In this way, the elements are able to create an impulse magnetic field.
Since the ANTI-THEFT LABEL or the PLATE is placed in a magnetic field, the electrons present in the metallic material move (due to the magnetization).
Because of this, the strips inside the accessory change their size and start to vibrate, dilate and compress at arhythmic frequency that represents a characteristic signal: this phenomenon is called MAGNETOSTRICTION
Trough magnetostriction, the anti-theft labelor plateemits a signal that is received by the system (specifically by the RECEIVER).
The anti-theft systems for retail shops with acousto-magnetic (AM) technology by IDISEC are very efficient since the receiver is able to analyze the signal and evaluate if it has actually been emitted by an anti-theft label or plate compatible with the ones present in the shop or if it is a false alarm.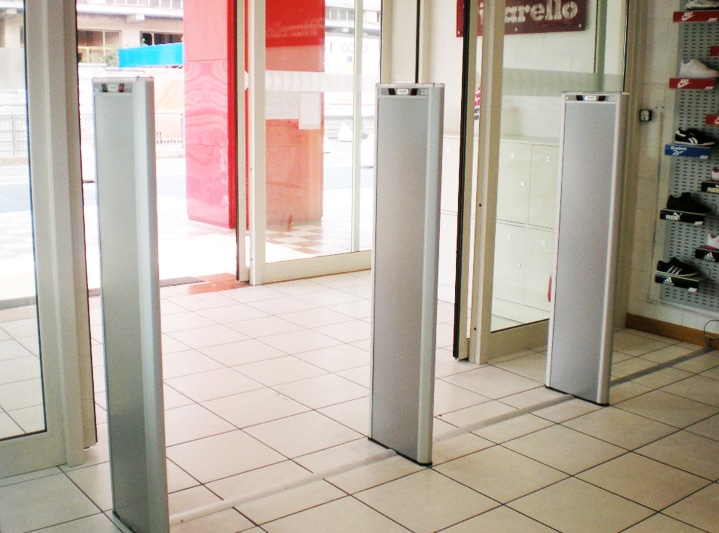 AM anti-theft systems for retail shops are suggested by
IDISEC for the following commercial activities:
AM ANTI-THEFT SYSTEMS: prices
The advantage of AM anti-theft systems for retail shops is a wider protection compared to RF ANTI-THEFT SYSTEMS.
They work with rigid or sticker labels, tags or anti-theft plates. These accessories can also have reduced size, in order to perfectly adapt to protect a variety of merchandise.
AM security systems by IDISEC generally have higher prices compared to RF security systems, as they offer some functional advantages, such as a larger space covered by the magnetic field to signal anomalies.
Contact us in case of any doubts and to receive detailed information regarding our proposals of anti-theft systems at competitive prices. In this page you will also be able to look at available products and fill the form to ask for a free quote.
Our products of the AM Anti-Theft System (Acousto-Magnetic)