FREE-TOUCH ANTI-THEFT SYSTEMS
The innovation in technology, as well as the fact that electronic products are attractive, forces us to address the unpleasant phenomenon of theft. Thanks to the free-touch anti-theft systems by IDISEC, you can address these problems and protect your shop from potential burglars.
In big chains it is not possible to check every single client, because of the big turnout of people in the shop itself.
At the same time, the owners cannot stop the customer from verifying directly the manageability of a product, in order to observe their features.
For all these reasons, free-touch protection systems for Smartphone, Tablet etc. are needed, so that the retailer can protect himself while guaranteeing the quality of the services offered to the visitors.
Free-touch anti-theft systems can generally be distinguished into two types:
"STAND ALONE SYSTEMS" completely autonomous and used when the articles to protect are small in number;
"CENTRALIZED SYSTEM" make it possible to connect even a large number of products to a single centre, thus optimizing the costs. This final solution is the most used when it comes to protect big exhibition areas.
IDISEC proposes ELECTRONIC PROTECTION SYSTEMS and MECHANICAL PROTECTION SYSTEMS, sensors and safers to properly protect your merchandise. This technology offers several advantages, including:
HIGH FREEDOM IN OPEN MERCHANDISING
EASY TO INSTALL
HIGH-SECURITY
REDUCED COSTS
Free-touch anti-theft systems by IDISEC only require a long-lasting battery that can be directly replaced in the shops by the cashiers.
This automatically reduces costs related to maintenance and also ensures a complete freedom in the management of these systems.
The safers are very easy to install, as they can be fixed with specific stickers or screws, according to the type of surface they are placed on (glass, wood, metal and so on).
Our free-touch anti-theft systems also ensure a high level of safety, thanks to an integrated encoded key. Duplicating this key is almost impossible, given the high number of possible combinations.
All anti-theft systems (for tablets, smartphones, notebooks and so on) are provided with electronic components, an alarm and a device to activate and deactivate them: a complete solution able to ensure the highest safety.
Each free-touch anti-theft system proposed by IDISEC is perfectly able to protect any kind of device, as you can opt for anti-theft systems for tablets, smartphones, cameras or free-touch anti-theft systems for other products.
The client is free to touch and evaluate on his own the quality and functioning of the merchandise, yet ensuring safety for the retailer.
FREE-TOUCH ANTI-THEFT SYSTEMS: prices
Free-touch anti-theft systems have several advantages and give a high value to these products.
Besides offering an easy management and high-quality performances, in case of malfunction of a single anti-theft system, a single product and no other products will be involved. This means that you will simply have to replace the broken device directly in your shop, without having to urgently contact an external technician.
Despite the high quality of these anti-theft systems, the prices do not represent a problem. In fact, IDISEC has always worked to satisfy its clients. Therefore, we propose anti-theft systems with prices able to satisfy any need and adapt to several conditions.
In order to receive additional information on free-touch anti-theft systems, either mechanical or electronic, don't hesitate to contact us by filling the specific form at the end of this page. It will also allow you to request a free quote.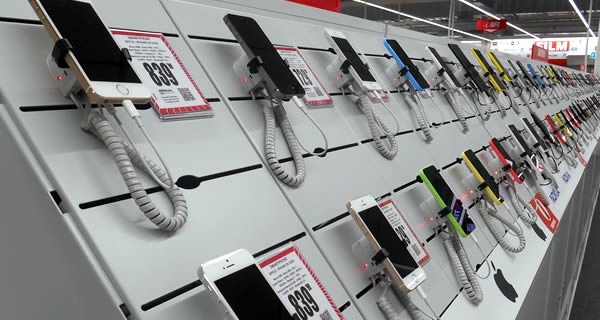 Our free-touch protection systems